Hi list,
I have found the answer for myself.
I have done the following:
Taken the xml dump of the domU while it was still in the hanged state, and saved the configuration
In the file test.xml
I then deleted the PAE,ACPI,APIC section from the config file that says:
<features>
<acpi/>
<apic/>
<pae/>
<features/>
So that it remained only
<features>
<features/>
Booted domU with "pci=routeirq"
That's it, and it went fine for me J
Regards
Vijay Shankar Yadav.
---
From: Vijay Yadav
Sent: Thursday, October 25, 2007 4:51 PM
To: xen-users@xxxxxxxxxxxxxxxxxxx
Subject: Error creating domain U.
Hi list,

I was trying to install fully virtualised domU(Fedora 7 ) on xen 3.1 with Fedora 7 as the dom0 (host).
The domain creation stop at the following step :

Attached is a screen dump .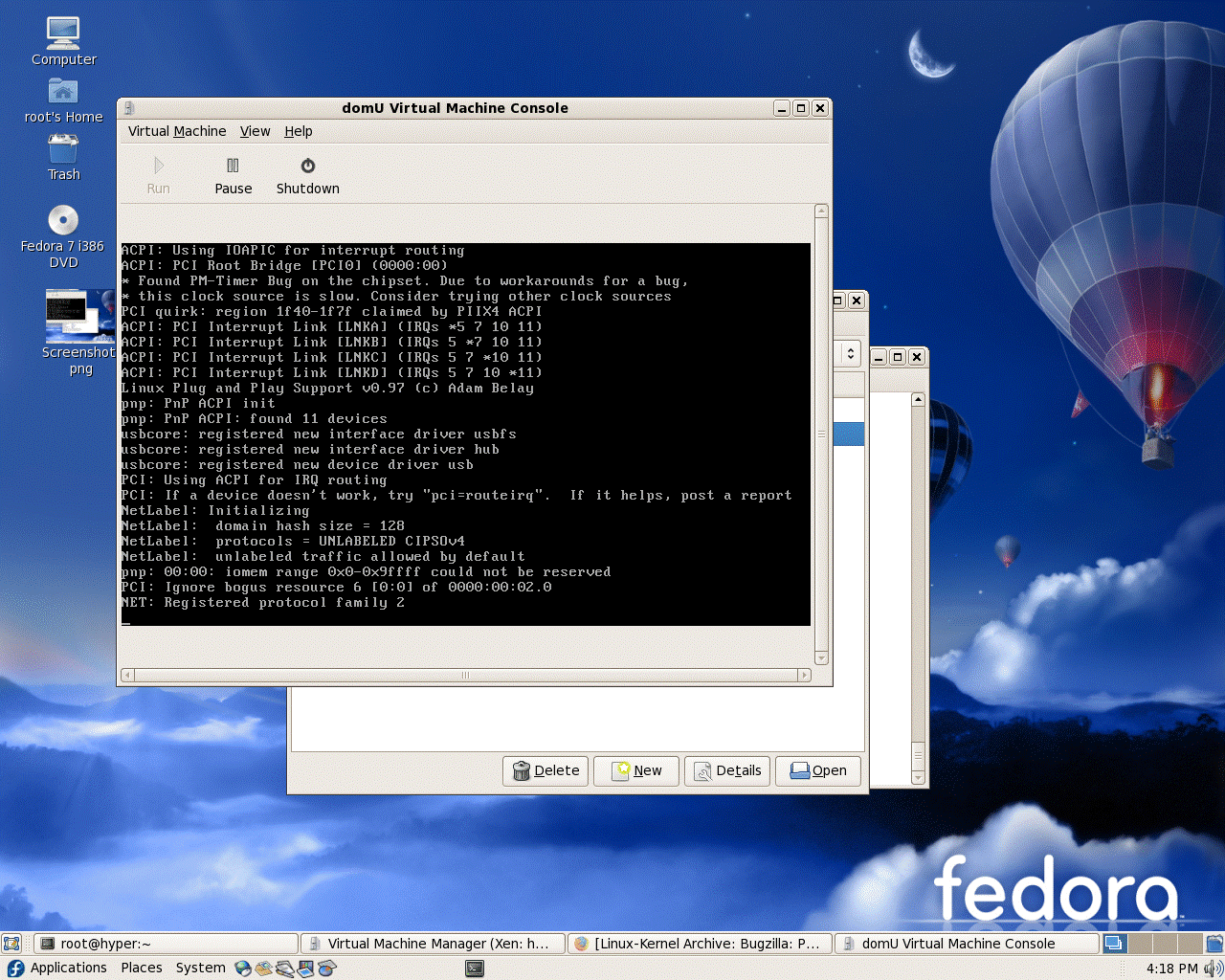 Then I tried to run the domain with "pci=routeirq" option.
But that also stops after some steps.
( I have tried with other options such as "nolapic" , "notsc" , "clocksource=pit" "clock=pit" , but with no success)




Here is a screen dump after specifing "pci=routeirq".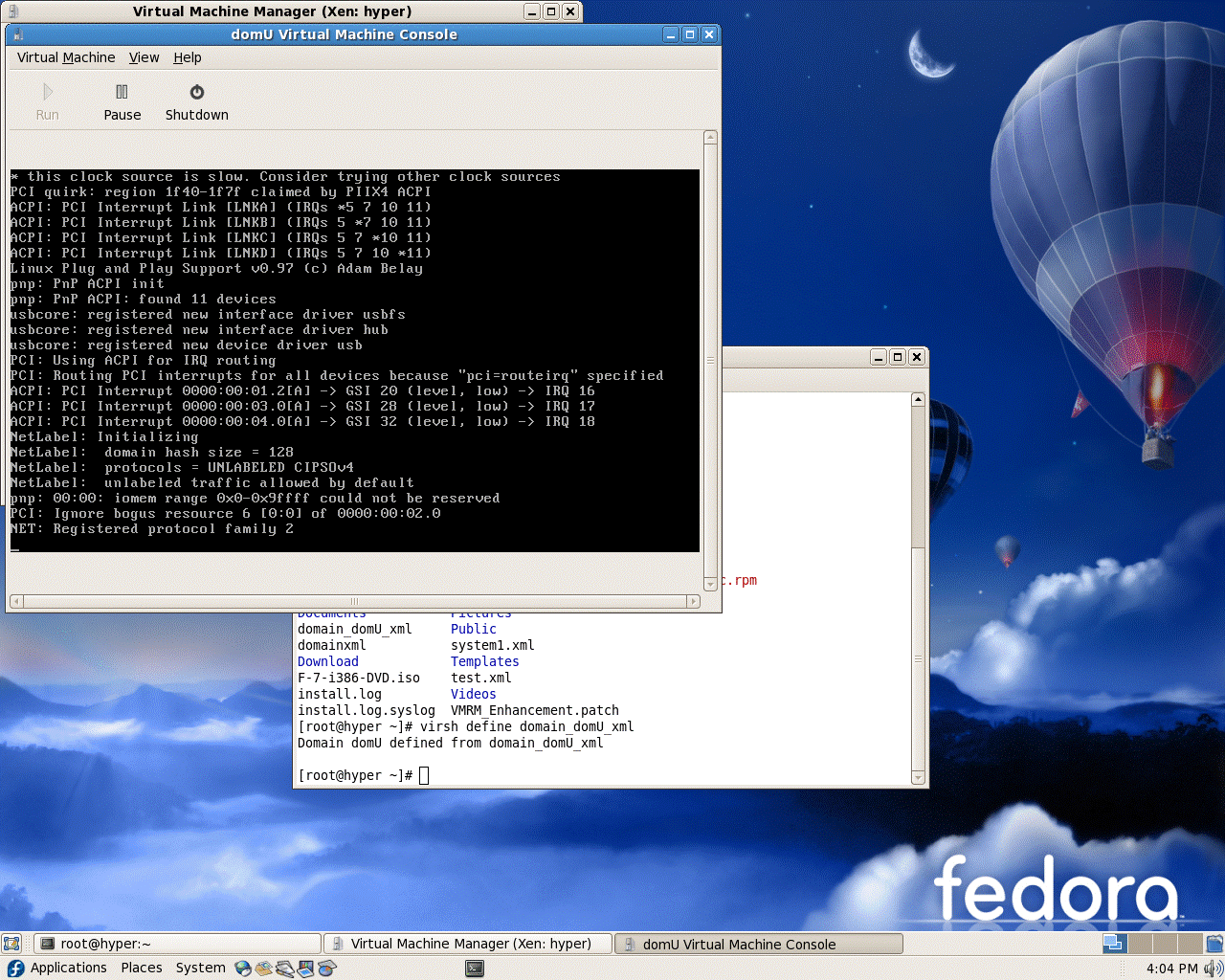 Here is a complete list of all the logs and system info.
My machine is HP Workstation xw4400, with Intel core 2 duo processor.

What else I can do to install the domU.
Please help !!!

Regards,
Vijay shankar Yadav.

~~~~~~~~~~~~~~~~~~~~~~~~~~~~~~~~~~~~~~~~~~~~~~~~~~~~~~~~~~~~~~~~~~~~~~~~~~~~~~~~~~~~~~~~~~~~~~~~~~~~~~


$ xm dmesg
[?1034h __ __ _____ _ ___ _____ __ _____
\ \/ /___ _ __ |___ / / | / _ \ _ __ __|___ |/ _| __|___ |
\ // _ \ \047_ \ |_ \ | || | | |__| \047__/ __| / /| |_ / __| / /
/ \ __/ | | | ___) || || |_| |__| | | (__ / /_| _| (__ / /
/_/\_\___|_| |_| |____(_)_(_)___/ |_| \___/_/(_)_| \___/_/

http://www.cl.cam.ac.uk/netos/xen
University of Cambridge Computer Laboratory

Xen version 3.1.0-rc7-2936.fc7 (kojibuilder@(none)) (gcc version 4.1.2 20070502 (Red Hat 4.1.2-12)) Fri Sep 21 12:06:08 EDT 2007
Latest ChangeSet: unavailable

(XEN) Command line: /xen.gz-2.6.20-2936.fc7 dom0_mem=400M
(XEN) 0000000000000000 - 0000000000099000 (usable)
(XEN) 0000000000099000 - 00000000000a0000 (reserved)
(XEN) 00000000000e8000 - 0000000000100000 (reserved)
(XEN) 0000000000100000 - 000000003ffc6000 (usable)
(XEN) 000000003ffc6300 - 0000000040000000 (reserved)
(XEN) 00000000f0000000 - 00000000f4000000 (reserved)
(XEN) 00000000fec00000 - 00000000fed40000 (reserved)
(XEN) 00000000fed45000 - 0000000100000000 (reserved)
(XEN) System RAM: 1023MB (1047932kB)
(XEN) Xen heap: 10MB (10240kB)
(XEN) Domain heap initialised: DMA width 32 bits
(XEN) PAE enabled, limit: 16 GB
(XEN) Processor #0 6:15 APIC version 20
(XEN) Processor #1 6:15 APIC version 20
(XEN) IOAPIC[0]: apic_id 1, version 32, address 0xfec00000, GSI 0-23
(XEN) Enabling APIC mode: Flat. Using 1 I/O APICs
(XEN) Using scheduler: SMP Credit Scheduler (credit)
(XEN) Detected 1866.780 MHz processor.
(XEN) HVM: VMX enabled
(XEN) VMX: MSR intercept bitmap enabled
(XEN) CPU0: Intel(R) Core(TM)2 CPU 6300 @ 1.86GHz stepping 02
(XEN) Mapping cpu 0 to node 255
(XEN) Booting processor 1/1 eip 90000
(XEN) Mapping cpu 1 to node 255
(XEN) CPU1: Intel(R) Core(TM)2 CPU 6300 @ 1.86GHz stepping 02
(XEN) Total of 2 processors activated.
(XEN) ENABLING IO-APIC IRQs
(XEN) -> Using new ACK method
(XEN) Platform timer is 14.318MHz HPET
(XEN) Brought up 2 CPUs
(XEN) *** LOADING DOMAIN 0 ***
(XEN) elf_parse_binary: phdr: paddr=0xc1000000 memsz=0x2c4680
(XEN) elf_parse_binary: phdr: paddr=0xc12c5000 memsz=0x323000
(XEN) elf_parse_binary: memory: 0xc1000000 -> 0xc15e8000
(XEN) elf_xen_parse_note: GUEST_OS = "linux"
(XEN) elf_xen_parse_note: GUEST_VERSION = "2.6"
(XEN) elf_xen_parse_note: XEN_VERSION = "xen-3.0"
(XEN) elf_xen_parse_note: VIRT_BASE = 0xc0000000
(XEN) elf_xen_parse_note: PADDR_OFFSET = 0xc0000000
(XEN) elf_xen_parse_note: ENTRY = 0xc1000000
(XEN) elf_xen_parse_note: HYPERCALL_PAGE = 0xc1001000
(XEN) elf_xen_parse_note: HV_START_LOW = 0xf5800000
(XEN) elf_xen_parse_note: FEATURES = "writable_page_tables|writable_descriptor_tables|auto_translated_physmap|pae_pgdir_above_4gb|supervisor_mode_kernel"
(XEN) elf_xen_parse_note: PAE_MODE = "yes"
(XEN) elf_xen_parse_note: unknown xen elf note (0xd)
(XEN) elf_xen_parse_note: LOADER = "generic"
(XEN) elf_xen_parse_note: SUSPEND_CANCEL = 0x1
(XEN) elf_xen_addr_calc_check: addresses:
(XEN) virt_base = 0xc0000000
(XEN) elf_paddr_offset = 0xc0000000
(XEN) virt_offset = 0x0
(XEN) virt_kstart = 0xc1000000
(XEN) virt_kend = 0xc15e8000
(XEN) virt_entry = 0xc1000000
(XEN) Xen kernel: 32-bit, PAE, lsb
(XEN) Dom0 kernel: 32-bit, PAE, lsb, paddr 0xc1000000 -> 0xc15e8000
(XEN) PHYSICAL MEMORY ARRANGEMENT:
(XEN) Dom0 alloc.: 000000003c000000->000000003e000000 (94208 pages to be allocated)
(XEN) VIRTUAL MEMORY ARRANGEMENT:
(XEN) Loaded kernel: c1000000->c15e8000
(XEN) Init. ramdisk: c15e8000->c1e74000
(XEN) Phys-Mach map: c1e74000->c1ed8000
(XEN) Start info: c1ed8000->c1ed846c
(XEN) Page tables: c1ed9000->c1eee000
(XEN) Boot stack: c1eee000->c1eef000
(XEN) TOTAL: c0000000->c2000000
(XEN) ENTRY ADDRESS: c1000000
(XEN) Dom0 has maximum 2 VCPUs
(XEN) elf_load_binary: phdr 0 at 0xc1000000 -> 0xc12c4680
(XEN) elf_load_binary: phdr 1 at 0xc12c5000 -> 0xc133fb64
(XEN) Initrd len 0x88c000, start at 0xc15e8000
(XEN) Scrubbing Free RAM: ......done.
(XEN) Xen trace buffers: disabled
(XEN) Std. Loglevel: Errors and warnings
(XEN) Guest Loglevel: Nothing (Rate-limited: Errors and warnings)
(XEN) Xen is relinquishing VGA console.
(XEN) *** Serial input -> DOM0 (type \047CTRL-a\047 three times to switch input to Xen).


$ dmesg
Linux version 2.6.20-2936.fc7xen (kojibuilder@xxxxxxxxxxxxxxxxxxxxxxxxxxxxxxxxx) (gcc version 4.1.2 20070502 (Red Hat 4.1.2-12)) #1 SMP Fri Sep 21 12:07:35 EDT 2007
BIOS-provided physical RAM map:
sanitize start
sanitize bail 0
copy_e820_map() start: 0000000000000000 size: 0000000019800000 end: 0000000019800000 type: 1
Xen: 0000000000000000 - 0000000019800000 (usable)
0MB HIGHMEM available.
408MB LOWMEM available.
NX (Execute Disable) protection: active
Entering add_active_range(0, 0, 104448) 0 entries of 256 used
Zone PFN ranges:
DMA 0 -> 104448
Normal 104448 -> 104448
HighMem 104448 -> 104448
early_node_map[1] active PFN ranges
0: 0 -> 104448
On node 0 totalpages: 104448
DMA zone: 816 pages used for memmap
DMA zone: 0 pages reserved
DMA zone: 103632 pages, LIFO batch:31
Normal zone: 0 pages used for memmap
HighMem zone: 0 pages used for memmap
found SMP MP-table at 000f9bf0
DMI 2.4 present.
ACPI: RSDP (v000 COMPAQ ) @ 0x000e7810
ACPI: RSDT (v001 HPQOEM SLIC-WKS 0x20060404 0x00000000) @ 0x3ffc6340
ACPI: FADT (v001 COMPAQ GLENWOOD 0x00000001 0x00000000) @ 0x3ffc63ec
ACPI: MADT (v001 COMPAQ GLENWOOD 0x00000001 0x00000000) @ 0x3ffc6460
ACPI: ASF! (v032 COMPAQ GLENWOOD 0x00000001 0x00000000) @ 0x3ffc64e4
ACPI: MCFG (v001 COMPAQ GLENWOOD 0x00000001 0x00000000) @ 0x3ffc6547
ACPI: TCPA (v001 COMPAQ GLENWOOD 0x00000001 0x00000000) @ 0x3ffc6583
ACPI: HPET (v001 COMPAQ GLENWOOD 0x00000001 0x00000000) @ 0x3ffc672b
ACPI: DSDT (v001 COMPAQ DSDT_PRJ 0x00000001 MSFT 0x0100000e) @ 0x00000000
ACPI: Local APIC address 0xfee00000
ACPI: LAPIC (acpi_id[0x01] lapic_id[0x00] enabled)
ACPI: LAPIC (acpi_id[0x02] lapic_id[0x01] enabled)
ACPI: LAPIC (acpi_id[0x03] lapic_id[0x02] disabled)
ACPI: LAPIC (acpi_id[0x04] lapic_id[0x03] disabled)
ACPI: LAPIC_NMI (acpi_id[0x01] high edge lint[0x1])
ACPI: LAPIC_NMI (acpi_id[0x02] high edge lint[0x1])
ACPI: LAPIC_NMI (acpi_id[0x03] high edge lint[0x1])
ACPI: LAPIC_NMI (acpi_id[0x04] high edge lint[0x1])
ACPI: IOAPIC (id[0x01] address[0xfec00000] gsi_base[0])
IOAPIC[0]: apic_id 1, version 32, address 0xfec00000, GSI 0-23
ACPI: INT_SRC_OVR (bus 0 bus_irq 0 global_irq 2 dfl dfl)
ACPI: INT_SRC_OVR (bus 0 bus_irq 9 global_irq 9 high level)
ACPI: IRQ0 used by override.
ACPI: IRQ2 used by override.
ACPI: IRQ9 used by override.
Enabling APIC mode: Flat. Using 1 I/O APICs
Using ACPI (MADT) for SMP configuration information
Detected 1866.877 MHz processor.
Built 1 zonelists. Total pages: 103632
Kernel command line: ro root=/dev/VolGroup00/LogVol00 rhgb
Enabling fast FPU save and restore... done.
Enabling unmasked SIMD FPU exception support... done.
Initializing CPU#0
CPU 0 irqstacks, hard=c1364000 soft=c1344000
PID hash table entries: 2048 (order: 11, 8192 bytes)
Xen reported: 1866.780 MHz processor.
Console: colour VGA+ 80x50
Lock dependency validator: Copyright (c) 2006 Red Hat, Inc., Ingo Molnar
... MAX_LOCKDEP_SUBCLASSES: 8
... MAX_LOCK_DEPTH: 30
... MAX_LOCKDEP_KEYS: 2048
... CLASSHASH_SIZE: 1024
... MAX_LOCKDEP_ENTRIES: 8192
... MAX_LOCKDEP_CHAINS: 16384
... CHAINHASH_SIZE: 8192
memory used by lock dependency info: 1064 kB
per task-struct memory footprint: 1200 bytes
Dentry cache hash table entries: 65536 (order: 6, 262144 bytes)
Inode-cache hash table entries: 32768 (order: 5, 131072 bytes)
Software IO TLB enabled:
Aperture: 2 megabytes
Kernel range: c012d000 - c032d000
Address size: 24 bits
vmalloc area: da000000-f4ffe000, maxmem 2d7fe000
Memory: 387328k/417792k available (2045k kernel code, 22016k reserved, 1084k data, 180k init, 0k highmem)
virtual kernel memory layout:
fixmap : 0xf5315000 - 0xf57fe000 (5028 kB)
pkmap : 0xf5000000 - 0xf5200000 (2048 kB)
vmalloc : 0xda000000 - 0xf4ffe000 ( 431 MB)
lowmem : 0xc0000000 - 0xd9800000 ( 408 MB)
.init : 0xc1313000 - 0xc1340000 ( 180 kB)
.data : 0xc11ff5c5 - 0xc130e714 (1084 kB)
.text : 0xc1000000 - 0xc11ff5c5 (2045 kB)
Checking if this processor honours the WP bit even in supervisor mode... Ok.
Calibrating delay using timer specific routine.. 3737.92 BogoMIPS (lpj=7475842)
Security Framework v1.0.0 initialized
SELinux: Initializing.
SELinux: Starting in permissive mode
selinux_register_security: Registering secondary module capability
Capability LSM initialized as secondary
Mount-cache hash table entries: 512
CPU: After generic identify, caps: bfebd3f1 20100000 00000000 00000000 0000e3bd 00000000 00000001
CPU: L1 I cache: 32K, L1 D cache: 32K
CPU: L2 cache: 2048K
CPU: After all inits, caps: bfebd3f1 20100000 00000000 00003940 0000e3bd 00000000 00000001
Checking 'hlt' instruction... OK.
lockdep: not fixing up alternatives.
ACPI: Core revision 20060707
CPU 1 irqstacks, hard=c1365000 soft=c1345000
ENABLING IO-APIC IRQs
lockdep: not fixing up alternatives.
Brought up 2 CPUs
Initializing CPU#1
sizeof(vma)=88 bytes
sizeof(page)=32 bytes
sizeof(inode)=564 bytes
sizeof(dentry)=156 bytes
sizeof(ext3inode)=800 bytes
sizeof(buffer_head)=56 bytes
sizeof(skbuff)=176 bytes
sizeof(task_struct)=2656 bytes
migration_cost=24
NET: Registered protocol family 16
ACPI: bus type pci registered
PCI: BIOS Bug: MCFG area at f0000000 is not E820-reserved
PCI: Not using MMCONFIG.
PCI: Using configuration type 1
Setting up standard PCI resources
Allocating PCI resources starting at 50000000 (gap: 40000000:b0000000)
ACPI: Interpreter enabled
ACPI: Using IOAPIC for interrupt routing
ACPI: PCI Root Bridge [PCI0] (0000:00)
PCI: Probing PCI hardware (bus 00)
ACPI: Assume root bridge [\_SB_.PCI0] bus is 0
PCI quirk: region f800-f87f claimed by ICH6 ACPI/GPIO/TCO
PCI quirk: region fa00-fa3f claimed by ICH6 GPIO
Boot video device is 0000:01:00.0
PCI: Transparent bridge - 0000:00:1e.0
ACPI: PCI Interrupt Routing Table [\_SB_.PCI0._PRT]
ACPI: PCI Interrupt Routing Table [\_SB_.PCI0.PEG1._PRT]
ACPI: PCI Interrupt Routing Table [\_SB_.PCI0.PCX1._PRT]
ACPI: PCI Interrupt Routing Table [\_SB_.PCI0.PCX5._PRT]
ACPI: PCI Interrupt Routing Table [\_SB_.PCI0.PCX6._PRT]
ACPI: PCI Interrupt Routing Table [\_SB_.PCI0.HUB_._PRT]
ACPI: PCI Interrupt Link [LNKA] (IRQs 3 4 5 6 7 *10 11 14 15)
ACPI: PCI Interrupt Link [LNKB] (IRQs 3 4 5 6 7 *10 11 14 15)
ACPI: PCI Interrupt Link [LNKC] (IRQs 3 4 5 6 7 *10 11 14 15)
ACPI: PCI Interrupt Link [LNKD] (IRQs 3 4 *5 6 7 10 11 14 15)
ACPI: PCI Interrupt Link [LNKE] (IRQs 3 4 *5 6 7 10 11 14 15)
ACPI: PCI Interrupt Link [LNKF] (IRQs 3 4 5 6 7 10 *11 14 15)
ACPI: PCI Interrupt Link [LNKG] (IRQs 3 4 5 6 7 10 *11 14 15)
ACPI: PCI Interrupt Link [LNKH] (IRQs 3 4 5 6 7 10 11 14 15) *0, disabled.
Linux Plug and Play Support v0.97 (c) Adam Belay
pnp: PnP ACPI init
pnp: PnP ACPI: found 15 devices
xen_mem: Initialising balloon driver.
usbcore: registered new interface driver usbfs
usbcore: registered new interface driver hub
usbcore: registered new device driver usb
PCI: Using ACPI for IRQ routing
PCI: If a device doesn't work, try "pci=routeirq". If it helps, post a report
NetLabel: Initializing
NetLabel: domain hash size = 128
NetLabel: protocols = UNLABELED CIPSOv4
NetLabel: unlabeled traffic allowed by default
pnp: 00:0c: ioport range 0x4d0-0x4d1 has been reserved
pnp: 00:0d: ioport range 0x4e00-0x4e01 has been reserved
pnp: 00:0d: ioport range 0x400-0x48f could not be reserved
pnp: 00:0d: ioport range 0xcb0-0xcbf has been reserved
pnp: 00:0d: ioport range 0xf800-0xf87f could not be reserved
pnp: 00:0d: ioport range 0xfa00-0xfa3f has been reserved
pnp: 00:0d: ioport range 0xfc00-0xfc7f has been reserved
pnp: 00:0d: ioport range 0xfc80-0xfcff has been reserved
pnp: 00:0d: ioport range 0xcb0-0xcbf has been reserved
PCI: Bridge: 0000:00:01.0
IO window: 1000-1fff
MEM window: e0500000-e07fffff
PREFETCH window: d0000000-e01fffff
PCI: Bridge: 0000:00:1c.0
IO window: disabled.
MEM window: disabled.
PREFETCH window: disabled.
PCI: Bridge: 0000:00:1c.4
IO window: disabled.
MEM window: disabled.
PREFETCH window: disabled.
PCI: Bridge: 0000:00:1c.5
IO window: disabled.
MEM window: e0200000-e04fffff
PREFETCH window: disabled.
PCI: Bridge: 0000:00:1e.0
IO window: disabled.
MEM window: disabled.
PREFETCH window: disabled.
ACPI: PCI Interrupt 0000:00:01.0[A] -> GSI 16 (level, low) -> IRQ 16
PCI: Setting latency timer of device 0000:00:01.0 to 64
PCI: Setting latency timer of device 0000:00:1c.0 to 64
ACPI: PCI Interrupt 0000:00:1c.4[A] -> GSI 16 (level, low) -> IRQ 16
PCI: Setting latency timer of device 0000:00:1c.4 to 64
ACPI: PCI Interrupt 0000:00:1c.5[B] -> GSI 17 (level, low) -> IRQ 17
PCI: Setting latency timer of device 0000:00:1c.5 to 64
PCI: Setting latency timer of device 0000:00:1e.0 to 64
NET: Registered protocol family 2
IP route cache hash table entries: 4096 (order: 2, 16384 bytes)
TCP established hash table entries: 16384 (order: 7, 524288 bytes)
TCP bind hash table entries: 8192 (order: 6, 262144 bytes)
TCP: Hash tables configured (established 16384 bind 8192)
TCP reno registered
checking if image is initramfs... it is
Freeing initrd memory: 8752k freed
IA-32 Microcode Update Driver: v1.14a-xen <tigran@xxxxxxxxxxx>
audit: initializing netlink socket (disabled)
audit(1193308181.888:1): initialized
VFS: Disk quotas dquot_6.5.1
Dquot-cache hash table entries: 1024 (order 0, 4096 bytes)
SELinux: Registering netfilter hooks
io scheduler noop registered
io scheduler anticipatory registered
io scheduler deadline registered
io scheduler cfq registered (default)
PCI: Setting latency timer of device 0000:00:01.0 to 64
assign_interrupt_mode Found MSI capability
Allocate Port Service[0000:00:01.0:pcie00]
PCI: Setting latency timer of device 0000:00:1c.0 to 64
assign_interrupt_mode Found MSI capability
Allocate Port Service[0000:00:1c.0:pcie00]
Allocate Port Service[0000:00:1c.0:pcie02]
PCI: Setting latency timer of device 0000:00:1c.4 to 64
assign_interrupt_mode Found MSI capability
Allocate Port Service[0000:00:1c.4:pcie00]
Allocate Port Service[0000:00:1c.4:pcie02]
PCI: Setting latency timer of device 0000:00:1c.5 to 64
assign_interrupt_mode Found MSI capability
Allocate Port Service[0000:00:1c.5:pcie00]
Allocate Port Service[0000:00:1c.5:pcie02]
pci_hotplug: PCI Hot Plug PCI Core version: 0.5
ACPI (exconfig-0455): Dynamic SSDT Load - OemId [COMPAQ] OemTableId [ CPU_TM2] [20060707]
ACPI: Processor [CPU0] (supports 8 throttling states)
ACPI: Processor [CPU1] (supports 8 throttling states)
ACPI Exception (acpi_processor-0677): AE_NOT_FOUND, Processor Device is not present [20060707]
ACPI Exception (acpi_processor-0677): AE_NOT_FOUND, Processor Device is not present [20060707]
Real Time Clock Driver v1.12ac
hpet_acpi_add: no address or irqs in _CRS
Non-volatile memory driver v1.2
Linux agpgart interface v0.101 (c) Dave Jones
RAMDISK driver initialized: 16 RAM disks of 16384K size 4096 blocksize
input: Macintosh mouse button emulation as /class/input/input0
Xen virtual console successfully installed as ttyS0
Event-channel device installed.
usbcore: registered new interface driver libusual
usbcore: registered new interface driver hiddev
usbcore: registered new interface driver usbhid
drivers/usb/input/hid-core.c: v2.6:USB HID core driver
PNP: PS/2 Controller [PNP0303:KBD,PNP0f0e:PS2M] at 0x60,0x64 irq 1,12
serio: i8042 KBD port at 0x60,0x64 irq 1
serio: i8042 AUX port at 0x60,0x64 irq 12
mice: PS/2 mouse device common for all mice
input: AT Translated Set 2 keyboard as /class/input/input1
TCP bic registered
Initializing XFRM netlink socket
NET: Registered protocol family 1
NET: Registered protocol family 17
Using IPI No-Shortcut mode
Freeing unused kernel memory: 180k freed
Write protecting the kernel read-only data: 762k
USB Universal Host Controller Interface driver v3.0
ACPI: PCI Interrupt 0000:00:1d.0[A] -> GSI 20 (level, low) -> IRQ 18
PCI: Setting latency timer of device 0000:00:1d.0 to 64
uhci_hcd 0000:00:1d.0: UHCI Host Controller
uhci_hcd 0000:00:1d.0: new USB bus registered, assigned bus number 1
uhci_hcd 0000:00:1d.0: irq 18, io base 0x00002000
usb usb1: configuration #1 chosen from 1 choice
hub 1-0:1.0: USB hub found
hub 1-0:1.0: 2 ports detected
ACPI: PCI Interrupt 0000:00:1d.1[B] -> GSI 18 (level, low) -> IRQ 19
PCI: Setting latency timer of device 0000:00:1d.1 to 64
uhci_hcd 0000:00:1d.1: UHCI Host Controller
uhci_hcd 0000:00:1d.1: new USB bus registered, assigned bus number 2
uhci_hcd 0000:00:1d.1: irq 19, io base 0x00002020
usb usb2: configuration #1 chosen from 1 choice
hub 2-0:1.0: USB hub found
hub 2-0:1.0: 2 ports detected
ACPI: PCI Interrupt 0000:00:1d.2[C] -> GSI 21 (level, low) -> IRQ 20
PCI: Setting latency timer of device 0000:00:1d.2 to 64
uhci_hcd 0000:00:1d.2: UHCI Host Controller
uhci_hcd 0000:00:1d.2: new USB bus registered, assigned bus number 3
uhci_hcd 0000:00:1d.2: irq 20, io base 0x00002040
usb usb3: configuration #1 chosen from 1 choice
hub 3-0:1.0: USB hub found
hub 3-0:1.0: 2 ports detected
ACPI: PCI Interrupt 0000:00:1d.3[D] -> GSI 22 (level, low) -> IRQ 21
PCI: Setting latency timer of device 0000:00:1d.3 to 64
uhci_hcd 0000:00:1d.3: UHCI Host Controller
uhci_hcd 0000:00:1d.3: new USB bus registered, assigned bus number 4
uhci_hcd 0000:00:1d.3: irq 21, io base 0x00002060
usb usb4: configuration #1 chosen from 1 choice
hub 4-0:1.0: USB hub found
hub 4-0:1.0: 2 ports detected
ohci_hcd: 2006 August 04 USB 1.1 'Open' Host Controller (OHCI) Driver
ACPI: PCI Interrupt 0000:00:1d.7[A] -> GSI 20 (level, low) -> IRQ 18
PCI: Setting latency timer of device 0000:00:1d.7 to 64
ehci_hcd 0000:00:1d.7: EHCI Host Controller
ehci_hcd 0000:00:1d.7: new USB bus registered, assigned bus number 5
ehci_hcd 0000:00:1d.7: debug port 1
PCI: cache line size of 32 is not supported by device 0000:00:1d.7
ehci_hcd 0000:00:1d.7: irq 18, io mem 0xe0a04000
ehci_hcd 0000:00:1d.7: USB 2.0 started, EHCI 1.00, driver 10 Dec 2004
usb usb5: configuration #1 chosen from 1 choice
hub 5-0:1.0: USB hub found
hub 5-0:1.0: 8 ports detected
input: ImPS/2 Logitech Wheel Mouse as /class/input/input2
SCSI subsystem initialized
libata version 2.00 loaded.
ahci 0000:00:1f.2: version 2.0
ACPI: PCI Interrupt 0000:00:1f.2[B] -> GSI 19 (level, low) -> IRQ 22
PCI: Setting latency timer of device 0000:00:1f.2 to 64
ahci 0000:00:1f.2: AHCI 0001.0100 32 slots 4 ports 3 Gbps 0xf impl RAID mode
ahci 0000:00:1f.2: flags: 64bit ncq pm led clo pio slum part
ata1: SATA max UDMA/133 cmd 0xDA022500 ctl 0x0 bmdma 0x0 irq 22
ata2: SATA max UDMA/133 cmd 0xDA022580 ctl 0x0 bmdma 0x0 irq 22
ata3: SATA max UDMA/133 cmd 0xDA022600 ctl 0x0 bmdma 0x0 irq 22
ata4: SATA max UDMA/133 cmd 0xDA022680 ctl 0x0 bmdma 0x0 irq 22
scsi0 : ahci
ata1: SATA link up 3.0 Gbps (SStatus 123 SControl 300)
ata1.00: ATA-7, max UDMA/100, 156301488 sectors: LBA48 NCQ (depth 31/32)
ata1.00: ata1: dev 0 multi count 0
ata1.00: configured for UDMA/100
scsi1 : ahci
ata2: SATA link down (SStatus 0 SControl 300)
scsi2 : ahci
ata3: SATA link down (SStatus 0 SControl 300)
scsi3 : ahci
ata4: SATA link down (SStatus 0 SControl 300)
scsi 0:0:0:0: Direct-Access ATA Hitachi HDS72168 P21O PQ: 0 ANSI: 5
SCSI device sda: 156301488 512-byte hdwr sectors (80026 MB)
sda: Write Protect is off
sda: Mode Sense: 00 3a 00 00
SCSI device sda: write cache: enabled, read cache: enabled, doesn't support DPO or FUA
SCSI device sda: 156301488 512-byte hdwr sectors (80026 MB)
sda: Write Protect is off
sda: Mode Sense: 00 3a 00 00
SCSI device sda: write cache: enabled, read cache: enabled, doesn't support DPO or FUA
sda: sda1 sda2
sd 0:0:0:0: Attached scsi disk sda
ata_piix 0000:00:1f.1: version 2.00ac7
ACPI: PCI Interrupt 0000:00:1f.1[A] -> GSI 17 (level, low) -> IRQ 17
PCI: Setting latency timer of device 0000:00:1f.1 to 64
ata5: PATA max UDMA/133 cmd 0x1F0 ctl 0x3F6 bmdma 0x20A0 irq 14
ata6: PATA max UDMA/133 cmd 0x170 ctl 0x376 bmdma 0x20A8 irq 15
scsi4 : ata_piix
ata5.00: ATAPI, max UDMA/44
ata5.00: configured for UDMA/44
scsi5 : ata_piix
ATA: abnormal status 0x7F on port 0x177
scsi 4:0:0:0: CD-ROM TSSTcorp CDW/DVD TS-H492C CB07 PQ: 0 ANSI: 5
device-mapper: ioctl: 4.11.0-ioctl (2006-10-12) initialised: dm-devel@xxxxxxxxxx
kjournald starting. Commit interval 5 seconds
EXT3-fs: mounted filesystem with ordered data mode.
SELinux: Disabled at runtime.
SELinux: Unregistering netfilter hooks
audit(1193308191.452:2): selinux=0 auid=4294967295
sd 0:0:0:0: Attached scsi generic sg0 type 0
scsi 4:0:0:0: Attached scsi generic sg1 type 5
input: PC Speaker as /class/input/input3
Floppy drive(s): fd0 is 1.44M
Serial: 8250/16550 driver $Revision: 1.90 $ 4 ports, IRQ sharing enabled
FDC 0 is a post-1991 82077
intel_rng: Firmware space is locked read-only. If you can't or
intel_rng: don't want to disable this in firmware setup, and if
intel_rng: you are certain that your system has a functional
intel_rng: RNG, try using the 'no_fwh_detect' option.
parport: PnPBIOS parport detected.
parport0: PC-style at 0x378 (0x778), irq 7 [PCSPP,TRISTATE]
8250_pnp: Unknown symbol serial8250_unregister_port
8250_pnp: Unknown symbol serial8250_register_port
sr0: scsi3-mmc drive: 62x/62x writer cd/rw xa/form2 cdda tray
Uniform CD-ROM driver Revision: 3.20
sr 4:0:0:0: Attached scsi CD-ROM sr0
tg3.c:v3.72 (January 8, 2007)
ACPI: PCI Interrupt 0000:3f:00.0[A] -> GSI 17 (level, low) -> IRQ 17
PCI: Setting latency timer of device 0000:3f:00.0 to 64
Serial: 8250/16550 driver $Revision: 1.90 $ 4 ports, IRQ sharing enabled
iTCO_vendor_support: vendor-support=0
eth0: Tigon3 [partno(BCM95755) rev a002 PHY(5755)] (PCI Express) 10/100/1000Base-T Ethernet 00:1a:4b:b9:e2:50
eth0: RXcsums[1] LinkChgREG[0] MIirq[0] ASF[0] Split[0] WireSpeed[1] TSOcap[1]
eth0: dma_rwctrl[76180000] dma_mask[64-bit]
iTCO_wdt: Intel TCO WatchDog Timer Driver v1.01 (11-Nov-2006)
iTCO_wdt: Found a ICH7 or ICH7R TCO device (Version=2, TCOBASE=0x7860)
iTCO_wdt: heartbeat value must be 2<heartbeat<39 (TCO v1) or 613 (TCO v2), using 30
iTCO_wdt: initialized. heartbeat=30 sec (nowayout=0)
8250_pnp: Unknown symbol serial8250_unregister_port
8250_pnp: Unknown symbol serial8250_register_port
ACPI: PCI Interrupt 0000:00:1b.0[A] -> GSI 21 (level, low) -> IRQ 20
PCI: Setting latency timer of device 0000:00:1b.0 to 64
loop: loaded (max 8 devices)
lp0: using parport0 (interrupt-driven).
lp0: console ready
sonypi: Sony Programmable I/O Controller Driver v1.26.
input: Power Button (FF) as /class/input/input4
ACPI: Power Button (FF) [PWRF]
input: Power Button (CM) as /class/input/input5
ACPI: Power Button (CM) [PBTN]
No dock devices found.
ibm_acpi: ec object not found
device-mapper: multipath: version 1.0.5 loaded
EXT3 FS on dm-0, internal journal
kjournald starting. Commit interval 5 seconds
EXT3 FS on sda1, internal journal
EXT3-fs: mounted filesystem with ordered data mode.
Adding 2031608k swap on /dev/VolGroup00/LogVol01. Priority:-1 extents:1 across:2031608k
NET: Registered protocol family 10
lo: Disabled Privacy Extensions
Mobile IPv6
ADDRCONF(NETDEV_UP): eth0: link is not ready
tg3: eth0: Link is up at 100 Mbps, full duplex.
tg3: eth0: Flow control is off for TX and off for RX.
ADDRCONF(NETDEV_CHANGE): eth0: link becomes ready
eth0: no IPv6 routers present
audit(1193308236.545:3): audit_pid=1958 old=0 by auid=4294967295
Bluetooth: Core ver 2.11
NET: Registered protocol family 31
Bluetooth: HCI device and connection manager initialized
Bluetooth: HCI socket layer initialized
Bluetooth: L2CAP ver 2.8
Bluetooth: L2CAP socket layer initialized
Bluetooth: RFCOMM socket layer initialized
Bluetooth: RFCOMM TTY layer initialized
Bluetooth: RFCOMM ver 1.8
Bluetooth: HIDP (Human Interface Emulation) ver 1.1
Bridge firewalling registered
ip_tables: (C) 2000-2006 Netfilter Core Team
Netfilter messages via NETLINK v0.30.
nf_conntrack version 0.5.0 (3264 buckets, 26112 max)
ADDRCONF(NETDEV_UP): peth0: link is not ready
tg3: peth0: Link is up at 100 Mbps, full duplex.
tg3: peth0: Flow control is off for TX and off for RX.
ADDRCONF(NETDEV_CHANGE): peth0: link becomes ready
device peth0 entered promiscuous mode
eth0: port 1(peth0) entering learning state
eth0: topology change detected, propagating
eth0: port 1(peth0) entering forwarding state
virbr0: no IPv6 routers present
peth0: no IPv6 routers present
eth0: no IPv6 routers present
ACPI: PCI Interrupt 0000:01:00.0[A] -> GSI 16 (level, low) -> IRQ 16
ISO 9660 Extensions: Microsoft Joliet Level 3
ISO 9660 Extensions: RRIP_1991A
device vif1.0 entered promiscuous mode
eth0: port 2(vif1.0) entering learning state
eth0: topology change detected, propagating
eth0: port 2(vif1.0) entering forwarding state
tun: Universal TUN/TAP device driver, 1.6
tun: (C) 1999-2004 Max Krasnyansky <maxk@xxxxxxxxxxxx>
device tap0 entered promiscuous mode
eth0: port 3(tap0) entering learning state
eth0: topology change detected, propagating
eth0: port 3(tap0) entering forwarding state
vif1.0: no IPv6 routers present
tap0: no IPv6 routers present
eth0: port 2(vif1.0) entering disabled state
device vif1.0 left promiscuous mode
eth0: port 2(vif1.0) entering disabled state
eth0: port 3(tap0) entering disabled state
device tap0 left promiscuous mode
eth0: port 3(tap0) entering disabled state


$ cat /var/log/xen/xend.log

[2007-10-25 16:00:45 2889] INFO (SrvDaemon:331) Xend Daemon started
[2007-10-25 16:00:45 2889] INFO (SrvDaemon:335) Xend changeset: unavailable.
[2007-10-25 16:00:45 2889] INFO (SrvDaemon:342) Xend version: Unknown.
[2007-10-25 16:00:45 2889] DEBUG (XendDomainInfo:126) XendDomainInfo.recreate({'max_vcpu_id': 1, 'cpu_time': 10949331913L, 'ssidref': 0, 'hvm': 0, 'shutdown_reason': 0, 'dying': 0, 'online_vcpus': 2, 'domid': 0, 'paused': 0, 'crashed': 0, 'running': 1, 'maxmem_kb': 4294967292L, 'shutdown': 0, 'mem_kb': 409600L, 'handle': [0, 0, 0, 0, 0, 0, 0, 0, 0, 0, 0, 0, 0, 0, 0, 0], 'blocked': 0, 'name': 'Domain-0'})
[2007-10-25 16:00:45 2889] INFO (XendDomainInfo:143) Recreating domain 0, UUID 00000000-0000-0000-0000-000000000000. at /local/domain/0
[2007-10-25 16:00:45 2889] DEBUG (XendDomainInfo:2026) Storing VM details: {'on_xend_stop': 'ignore', 'shadow_memory': '0', 'uuid': '00000000-0000-0000-0000-000000000000', 'on_reboot': 'restart', 'image': '(linux (kernel ))', 'on_poweroff': 'destroy', 'on_xend_start': 'ignore', 'on_crash': 'restart', 'xend/restart_count': '0', 'vcpus': '2', 'vcpu_avail': '3', 'name': 'Domain-0'}
[2007-10-25 16:00:45 2889] DEBUG (XendDomainInfo:875) Storing domain details: {'name': 'Domain-0', 'console/limit': '1048576', 'memory/target': '409600', 'vm': '/vm/00000000-0000-0000-0000-000000000000', 'domid': '0', 'cpu/0/availability': 'online', 'cpu/1/availability': 'online', 'control/platform-feature-multiprocessor-suspend': '1'}
[2007-10-25 16:00:45 2889] DEBUG (XendDomain:443) Adding Domain: 0
[2007-10-25 16:00:45 2889] DEBUG (XendDomain:379) number of vcpus to use is 0
[2007-10-25 16:00:45 2889] INFO (SrvServer:180) unix path=/var/lib/xend/xend-socket
[2007-10-25 16:00:45 2889] DEBUG (XendDomainInfo:875) Storing domain details: {'name': 'Domain-0', 'console/limit': '1048576', 'memory/target': '409600', 'vm': '/vm/00000000-0000-0000-0000-000000000000', 'domid': '0', 'cpu/0/availability': 'online', 'cpu/1/availability': 'online', 'control/platform-feature-multiprocessor-suspend': '1'}
[2007-10-25 16:00:45 2889] DEBUG (XendDomainInfo:959) XendDomainInfo.handleShutdownWatch
[2007-10-25 16:00:45 2889] WARNING (XendAPI:672) API call: VBD.set_device not found
[2007-10-25 16:00:45 2889] WARNING (XendAPI:672) API call: VBD.set_mode not found
[2007-10-25 16:00:45 2889] WARNING (XendAPI:672) API call: VBD.set_type not found
[2007-10-25 16:00:45 2889] WARNING (XendAPI:672) API call: VM.get_auto_power_on not found
[2007-10-25 16:00:45 2889] WARNING (XendAPI:672) API call: VM.set_auto_power_on not found
[2007-10-25 16:00:45 2889] WARNING (XendAPI:672) API call: VM.set_VCPUs_max not found
[2007-10-25 16:00:45 2889] WARNING (XendAPI:672) API call: VM.set_VCPUs_at_startup not found
[2007-10-25 16:00:45 2889] WARNING (XendAPI:672) API call: debug.get_all not found
[2007-10-25 16:00:45 2889] WARNING (XendAPI:672) API call: console.get_other_config not found
[2007-10-25 16:00:45 2889] WARNING (XendAPI:672) API call: console.set_other_config not found
[2007-10-25 16:00:45 2889] WARNING (XendAPI:672) API call: VIF.get_network not found
[2007-10-25 16:00:45 2889] WARNING (XendAPI:672) API call: VIF.set_device not found
[2007-10-25 16:00:45 2889] WARNING (XendAPI:672) API call: VIF.set_MAC not found
[2007-10-25 16:00:45 2889] WARNING (XendAPI:672) API call: VIF.set_MTU not found
[2007-10-25 16:00:45 2889] WARNING (XendAPI:672) API call: session.get_all_records not found
[2007-10-25 16:00:45 2889] WARNING (XendAPI:672) API call: event.get_record not found
[2007-10-25 16:00:45 2889] WARNING (XendAPI:672) API call: event.get_all not found
[2007-10-25 16:01:25 2889] INFO (XMLRPCServer:149) Opening Unix domain socket XML-RPC server on /var/run/xend/xen-api.sock; authentication has been disabled for this server.
[2007-10-25 16:01:25 2889] INFO (XMLRPCServer:149) Opening Unix domain socket XML-RPC server on /var/run/xend/xmlrpc.sock.
[2007-10-25 16:03:08 2889] DEBUG (XendDomainInfo:233) XendDomainInfo.createDormant({'vcpus_params': {}, 'PV_args': '', 'features': '', 'cpus': [], 'devices': {'540019ee-a753-7f8a-8855-6de7d12ba82a': ('vbd', {'uuid': '540019ee-a753-7f8a-8855-6de7d12ba82a', 'bootable': 0, 'driver': 'paravirtualised', 'dev': 'hdc:cdrom', 'uname': 'phy:/dev/dvd', 'mode': 'r'}), '496e4a69-73cb-83cc-6eca-eefb733f97c0': ('vbd', {'uuid': '496e4a69-73cb-83cc-6eca-eefb733f97c0', 'bootable': 1, 'driver': 'paravirtualised', 'dev': 'hda:disk', 'uname': 'file:/disk.imj', 'mode': 'w'}), '808215b3-a5d2-9f29-3660-7c2ccbc8cf73': ('vif', {'bridge': 'eth0', 'mac': '00:16:3e:00:d0:a1', 'type': 'ioemu', 'uuid': '808215b3-a5d2-9f29-3660-7c2ccbc8cf73', 'script': 'vif-bridge'}), '17504bf5-9186-9116-5c78-074b3b706081': ('vkbd', {'uuid': '17504bf5-9186-9116-5c78-074b3b706081'}), 'fe76aa99-4872-d9f8-93f8-51c2dd970433': ('vfb', {'uuid': 'fe76aa99-4872-d9f8-93f8-51c2dd970433', 'keymap': 'en-us', 'type': 'vnc', 'vncdisplay': '0', 'other_config': {'keymap': 'en-us', 'type': 'vnc', 'vncdisplay': '0'}})}, 'vcpu_avail': 1, 'VCPUs_live': 1, 'PV_bootloader': '', 'actions_after_crash': 'restart', 'vbd_refs': ['496e4a69-73cb-83cc-6eca-eefb733f97c0', '540019ee-a753-7f8a-8855-6de7d12ba82a'], 'PV_ramdisk': '', 'is_control_domain': False, 'name_label': 'domU', 'VCPUs_at_startup': 1, 'HVM_boot_params': {'order': 'd'}, 'platform': {'device_model': '/usr/lib/xen/bin/qemu-dm', 'serial': 'pty', 'boot': 'd', 'acpi': '1', 'apic': '1'}, 'cpu_weight': 256, 'console_refs': ['fe76aa99-4872-d9f8-93f8-51c2dd970433'], 'cpu_cap': 0, 'on_xend_stop': 'ignore', 'memory_static_min': 0, 'HVM_boot_policy': 'BIOS order', 'VCPUs_max': 1, 'memory_static_max': 524288000, 'actions_after_shutdown': 'destroy', 'on_xend_start': 'ignore', 'memory_dynamic_max': 419430400, 'actions_after_suspend': '', 'is_a_template': False, 'memory_dynamic_min': 419430400, 'uuid': 'bed29a3d-94d8-c9ee-8f02-3e50de1a65ac', 'PV_kernel': '/usr/lib/xen/boot/hvmloader', 'shadow_memory': 0, 'PV_bootloader_args': '', 'other_config': {}, 'actions_after_reboot': 'restart', 'vif_refs': ['808215b3-a5d2-9f29-3660-7c2ccbc8cf73'], 'vtpm_refs': [], 'security': None})
[2007-10-25 16:03:08 2889] DEBUG (XendDomain:960) Creating new managed domain: domU
[2007-10-25 16:03:18 2889] DEBUG (SrvDomain:76) Starting domain domU False
[2007-10-25 16:03:18 2889] DEBUG (XendDomainInfo:1465) XendDomainInfo.constructDomain
[2007-10-25 16:03:18 2889] DEBUG (balloon:113) Balloon: 618264 KiB free; need 2048; done.
[2007-10-25 16:03:18 2889] DEBUG (XendDomain:443) Adding Domain: 1
[2007-10-25 16:03:18 2889] DEBUG (XendDomainInfo:1519) XendDomainInfo.initDomain: 1 256
[2007-10-25 16:03:18 2889] DEBUG (image:330) args: boot, val: d
[2007-10-25 16:03:18 2889] DEBUG (image:330) args: fda, val: None
[2007-10-25 16:03:18 2889] DEBUG (image:330) args: fdb, val: None
[2007-10-25 16:03:18 2889] DEBUG (image:330) args: soundhw, val: None
[2007-10-25 16:03:18 2889] DEBUG (image:330) args: localtime, val: None
[2007-10-25 16:03:18 2889] DEBUG (image:330) args: serial, val: pty
[2007-10-25 16:03:18 2889] DEBUG (image:330) args: std-vga, val: None
[2007-10-25 16:03:18 2889] DEBUG (image:330) args: isa, val: None
[2007-10-25 16:03:18 2889] DEBUG (image:330) args: acpi, val: 1
[2007-10-25 16:03:18 2889] DEBUG (image:330) args: usb, val: None
[2007-10-25 16:03:18 2889] DEBUG (image:330) args: usbdevice, val: None
[2007-10-25 16:03:18 2889] DEBUG (image:330) args: k, val: None
[2007-10-25 16:03:18 2889] DEBUG (XendDomainInfo:1551) _initDomain:shadow_memory=0x0, memory_static_max=0x1f400000, memory_static_min=0x0.
[2007-10-25 16:03:18 2889] DEBUG (balloon:113) Balloon: 617236 KiB free; need 422912; done.
[2007-10-25 16:03:18 2889] INFO (image:129) buildDomain os=hvm dom=1 vcpus=1
[2007-10-25 16:03:18 2889] DEBUG (image:278) domid = 1
[2007-10-25 16:03:18 2889] DEBUG (image:279) image = /usr/lib/xen/boot/hvmloader
[2007-10-25 16:03:18 2889] DEBUG (image:280) store_evtchn = 2
[2007-10-25 16:03:18 2889] DEBUG (image:281) memsize = 400
[2007-10-25 16:03:18 2889] DEBUG (image:282) vcpus = 1
[2007-10-25 16:03:18 2889] DEBUG (image:283) pae = 0
[2007-10-25 16:03:18 2889] DEBUG (image:284) acpi = 1
[2007-10-25 16:03:18 2889] DEBUG (image:285) apic = 1
[2007-10-25 16:03:18 2889] INFO (XendDomainInfo:1367) createDevice: vkbd : {'uuid': '17504bf5-9186-9116-5c78-074b3b706081'}
[2007-10-25 16:03:18 2889] DEBUG (DevController:115) DevController: writing {'state': '1', 'backend-id': '0', 'backend': '/local/domain/0/backend/vkbd/1/0'} to /local/domain/1/device/vkbd/0.
[2007-10-25 16:03:18 2889] DEBUG (DevController:117) DevController: writing {'frontend-id': '1', 'domain': 'domU', 'frontend': '/local/domain/1/device/vkbd/0', 'state': '1', 'online': '1'} to /local/domain/0/backend/vkbd/1/0.
[2007-10-25 16:03:18 2889] INFO (XendDomainInfo:1367) createDevice: vfb : {'uuid': 'fe76aa99-4872-d9f8-93f8-51c2dd970433', 'keymap': 'en-us', 'type': 'vnc', 'vncdisplay': '0', 'other_config': {'keymap': 'en-us', 'type': 'vnc', 'vncdisplay': '0'}}
[2007-10-25 16:03:18 2889] DEBUG (DevController:115) DevController: writing {'state': '1', 'backend-id': '0', 'backend': '/local/domain/0/backend/vfb/1/0'} to /local/domain/1/device/vfb/0.
[2007-10-25 16:03:18 2889] DEBUG (DevController:117) DevController: writing {'domain': 'domU', 'frontend': '/local/domain/1/device/vfb/0', 'uuid': 'fe76aa99-4872-d9f8-93f8-51c2dd970433', 'vncdisplay': '0', 'state': '1', 'keymap': 'en-us', 'online': '1', 'frontend-id': '1', 'type': 'vnc'} to /local/domain/0/backend/vfb/1/0.
[2007-10-25 16:03:18 2889] INFO (XendDomainInfo:1367) createDevice: vbd : {'uuid': '496e4a69-73cb-83cc-6eca-eefb733f97c0', 'bootable': 1, 'driver': 'paravirtualised', 'dev': 'hda:disk', 'uname': 'file:/disk.imj', 'mode': 'w'}
[2007-10-25 16:03:18 2889] DEBUG (DevController:115) DevController: writing {'backend-id': '0', 'virtual-device': '768', 'device-type': 'disk', 'state': '1', 'backend': '/local/domain/0/backend/vbd/1/768'} to /local/domain/1/device/vbd/768.
[2007-10-25 16:03:18 2889] DEBUG (DevController:117) DevController: writing {'domain': 'domU', 'frontend': '/local/domain/1/device/vbd/768', 'uuid': '496e4a69-73cb-83cc-6eca-eefb733f97c0', 'dev': 'hda', 'state': '1', 'params': '/disk.imj', 'mode': 'w', 'online': '1', 'frontend-id': '1', 'type': 'file'} to /local/domain/0/backend/vbd/1/768.
[2007-10-25 16:03:18 2889] INFO (XendDomainInfo:1367) createDevice: vbd : {'uuid': '540019ee-a753-7f8a-8855-6de7d12ba82a', 'bootable': 0, 'driver': 'paravirtualised', 'dev': 'hdc:cdrom', 'uname': 'phy:/dev/dvd', 'mode': 'r'}
[2007-10-25 16:03:18 2889] DEBUG (DevController:115) DevController: writing {'backend-id': '0', 'virtual-device': '5632', 'device-type': 'cdrom', 'state': '1', 'backend': '/local/domain/0/backend/vbd/1/5632'} to /local/domain/1/device/vbd/5632.
[2007-10-25 16:03:18 2889] DEBUG (DevController:117) DevController: writing {'domain': 'domU', 'frontend': '/local/domain/1/device/vbd/5632', 'uuid': '540019ee-a753-7f8a-8855-6de7d12ba82a', 'dev': 'hdc', 'state': '1', 'params': '/dev/dvd', 'mode': 'r', 'online': '1', 'frontend-id': '1', 'type': 'phy'} to /local/domain/0/backend/vbd/1/5632.
[2007-10-25 16:03:18 2889] INFO (XendDomainInfo:1367) createDevice: vif : {'bridge': 'eth0', 'mac': '00:16:3e:00:d0:a1', 'type': 'ioemu', 'uuid': '808215b3-a5d2-9f29-3660-7c2ccbc8cf73', 'script': 'vif-bridge'}
[2007-10-25 16:03:18 2889] DEBUG (DevController:115) DevController: writing {'state': '1', 'backend-id': '0', 'backend': '/local/domain/0/backend/vif/1/0'} to /local/domain/1/device/vif/0.
[2007-10-25 16:03:18 2889] DEBUG (DevController:117) DevController: writing {'bridge': 'eth0', 'domain': 'domU', 'handle': '0', 'uuid': '808215b3-a5d2-9f29-3660-7c2ccbc8cf73', 'script': '/etc/xen/scripts/vif-bridge', 'state': '1', 'frontend': '/local/domain/1/device/vif/0', 'mac': '00:16:3e:00:d0:a1', 'online': '1', 'frontend-id': '1', 'type': 'ioemu'} to /local/domain/0/backend/vif/1/0.
[2007-10-25 16:03:18 2889] INFO (image:445) spawning device models: /usr/lib/xen/bin/qemu-dm ['/usr/lib/xen/bin/qemu-dm', '-d', '1', '-vcpus', '1', '-boot', 'd', '-serial', 'pty', '-acpi', '-domain-name', 'domU', '-net', 'nic,vlan=1,macaddr=00:16:3e:00:d0:a1,model=rtl8139', '-net', 'tap,vlan=1,bridge=eth0', '-vnc', '0', '-vnclisten', '127.0.0.1']
[2007-10-25 16:03:18 2889] INFO (image:449) device model pid: 3737
[2007-10-25 16:03:18 2889] DEBUG (XendDomainInfo:2026) Storing VM details: {'on_xend_stop': 'ignore', 'shadow_memory': '5', 'uuid': 'bed29a3d-94d8-c9ee-8f02-3e50de1a65ac', 'on_reboot': 'restart', 'start_time': '1193308398.49', 'on_poweroff': 'destroy', 'on_xend_start': 'ignore', 'on_crash': 'restart', 'xend/restart_count': '0', 'vcpus': '1', 'vcpu_avail': '1', 'image': '(hvm (kernel /usr/lib/xen/boot/hvmloader) (acpi 1) (apic 1) (boot d) (device_model /usr/lib/xen/bin/qemu-dm) (serial pty) (notes (SUSPEND_CANCEL 1)))', 'name': 'domU'}
[2007-10-25 16:03:18 2889] DEBUG (XendDomainInfo:875) Storing domain details: {'console/port': '3', 'name': 'domU', 'console/limit': '1048576', 'vm': '/vm/bed29a3d-94d8-c9ee-8f02-3e50de1a65ac', 'domid': '1', 'image/suspend-cancel': '1', 'cpu/0/availability': 'online', 'memory/target': '409600', 'control/platform-feature-multiprocessor-suspend': '1', 'store/ring-ref': '102398', 'store/port': '2'}
[2007-10-25 16:03:18 2889] DEBUG (XendDomainInfo:875) Storing domain details: {'name': 'domU', 'console/limit': '1048576', 'image/suspend-cancel': '1', 'domid': '1', 'vm': '/vm/bed29a3d-94d8-c9ee-8f02-3e50de1a65ac', 'cpu/0/availability': 'online', 'memory/target': '409600', 'control/platform-feature-multiprocessor-suspend': '1', 'store/ring-ref': '102398', 'store/port': '2'}
[2007-10-25 16:03:18 2889] DEBUG (XendDomainInfo:959) XendDomainInfo.handleShutdownWatch
[2007-10-25 16:03:18 2889] DEBUG (DevController:148) Waiting for devices vif.
[2007-10-25 16:03:18 2889] DEBUG (DevController:153) Waiting for 0.
[2007-10-25 16:03:18 2889] DEBUG (DevController:558) hotplugStatusCallback /local/domain/0/backend/vif/1/0/hotplug-status.
[2007-10-25 16:03:18 2889] DEBUG (DevController:558) hotplugStatusCallback /local/domain/0/backend/vif/1/0/hotplug-status.
[2007-10-25 16:03:18 2889] DEBUG (DevController:572) hotplugStatusCallback 1.
[2007-10-25 16:03:18 2889] DEBUG (DevController:148) Waiting for devices usb.
[2007-10-25 16:03:18 2889] DEBUG (DevController:148) Waiting for devices vbd.
[2007-10-25 16:03:18 2889] DEBUG (DevController:153) Waiting for 768.
[2007-10-25 16:03:18 2889] DEBUG (DevController:558) hotplugStatusCallback /local/domain/0/backend/vbd/1/768/hotplug-status.
[2007-10-25 16:03:19 2889] DEBUG (DevController:558) hotplugStatusCallback /local/domain/0/backend/vbd/1/768/hotplug-status.
[2007-10-25 16:03:19 2889] DEBUG (DevController:572) hotplugStatusCallback 1.
[2007-10-25 16:03:19 2889] DEBUG (DevController:153) Waiting for 5632.
[2007-10-25 16:03:19 2889] DEBUG (DevController:558) hotplugStatusCallback /local/domain/0/backend/vbd/1/5632/hotplug-status.
[2007-10-25 16:03:19 2889] DEBUG (DevController:572) hotplugStatusCallback 1.
[2007-10-25 16:03:19 2889] DEBUG (DevController:148) Waiting for devices irq.
[2007-10-25 16:03:19 2889] DEBUG (DevController:148) Waiting for devices vkbd.
[2007-10-25 16:03:19 2889] DEBUG (DevController:148) Waiting for devices vfb.
[2007-10-25 16:03:19 2889] DEBUG (vfbif:100) skip waiting for HVM vfb
[2007-10-25 16:03:19 2889] DEBUG (DevController:148) Waiting for devices console.
[2007-10-25 16:03:19 2889] DEBUG (DevController:148) Waiting for devices pci.
[2007-10-25 16:03:19 2889] DEBUG (DevController:148) Waiting for devices ioports.
[2007-10-25 16:03:19 2889] DEBUG (DevController:148) Waiting for devices tap.
[2007-10-25 16:03:19 2889] DEBUG (DevController:148) Waiting for devices vtpm.
[2007-10-25 16:04:41 2889] DEBUG (XendDomainInfo:445) XendDomainInfo.shutdown(halt)
[2007-10-25 16:04:41 2889] DEBUG (XendDomainInfo:959) XendDomainInfo.handleShutdownWatch
[2007-10-25 16:04:41 2889] INFO (XendDomainInfo:462) HVM save:remote shutdown dom 1!
[2007-10-25 16:04:41 2889] INFO (XendDomainInfo:1141) Domain has shutdown: name=domU id=1 reason=halt.
[2007-10-25 16:04:41 2889] DEBUG (XendDomainInfo:1713) XendDomainInfo.destroy: domid=1
[2007-10-25 16:04:41 2889] DEBUG (XendDomainInfo:1730) XendDomainInfo.destroyDomain(1)


$ cat /var/log/xen/xend-debug.log

Xend started at Thu Oct 25 16:00:45 2007.
Nothing to flush.
Traceback (most recent call last):
File "/usr/lib/python2.5/site-packages/xen/web/httpserver.py", line 140, in process
resource = self.getResource()
File "/usr/lib/python2.5/site-packages/xen/web/httpserver.py", line 172, in getResource
return self.getServer().getResource(self)
File "/usr/lib/python2.5/site-packages/xen/web/httpserver.py", line 351, in getResource
return self.root.getRequestResource(req)
File "/usr/lib/python2.5/site-packages/xen/web/resource.py", line 39, in getRequestResource
return findResource(self, req)
File "/usr/lib/python2.5/site-packages/xen/web/resource.py", line 26, in findResource
next = resource.getPathResource(pathElement, request)
File "/usr/lib/python2.5/site-packages/xen/web/resource.py", line 49, in getPathResource
val = self.getChild(path, request)
File "/usr/lib/python2.5/site-packages/xen/web/SrvDir.py", line 71, in getChild
val = self.get(x)
File "/usr/lib/python2.5/site-packages/xen/xend/server/SrvDomainDir.py", line 52, in get
return self.domain(x)
File "/usr/lib/python2.5/site-packages/xen/xend/server/SrvDomainDir.py", line 44, in domain
dom = self.xd.domain_lookup(x)
File "/usr/lib/python2.5/site-packages/xen/xend/XendDomain.py", line 524, in domain_lookup
raise XendInvalidDomain(str(domid))
XendInvalidDomain: <Fault 3: '1'>


$ cat /var/log/xen/qemu-dm.3737.log
domid: 1
qemu: the number of cpus is 1
Watching /local/domain/1/logdirty/next-active
qemu_map_cache_init nr_buckets = 4000
shared page at pfn 18fff
buffered io page at pfn 18ffd
xs_read(/vm/bed29a3d-94d8-c9ee-8f02-3e50de1a65ac/rtc/timeoffset): read error
xs_read(): vncpasswd get error. /vm/bed29a3d-94d8-c9ee-8f02-3e50de1a65ac/vncpasswd.
char device redirected to /dev/pts/1
I/O request not ready: 0, ptr: 0, port: 0, data: 0, count: 0, size: 0
Triggered log-dirty buffer switch


$ cat /proc/cpuinfo
processor : 0
vendor_id : GenuineIntel
cpu family : 6
model : 15
model name : Intel(R) Core(TM)2 CPU 6300 @ 1.86GHz
stepping : 2
cpu MHz : 1866.780
cache size : 2048 KB
fdiv_bug : no
hlt_bug : no
f00f_bug : no
coma_bug : no
fpu : yes
fpu_exception : yes
cpuid level : 10
wp : yes
flags : fpu tsc msr pae mce cx8 apic mtrr mca cmov pat pse36 clflush dts acpi mmx fxsr sse sse2 ss ht tm pbe nx lm constant_tsc pni monitor ds_cpl vmx est tm2 ssse3 cx16 xtpr lahf_lm
bogomips : 3737.92
clflush size : 64

processor : 1
vendor_id : GenuineIntel
cpu family : 6
model : 15
model name : Intel(R) Core(TM)2 CPU 6300 @ 1.86GHz
stepping : 2
cpu MHz : 1866.780
cache size : 2048 KB
fdiv_bug : no
hlt_bug : no
f00f_bug : no
coma_bug : no
fpu : yes
fpu_exception : yes
cpuid level : 10
wp : yes
flags : fpu tsc msr pae mce cx8 apic mtrr mca cmov pat pse36 clflush dts acpi mmx fxsr sse sse2 ss ht tm pbe nx lm constant_tsc pni monitor ds_cpl vmx est tm2 ssse3 cx16 xtpr lahf_lm
bogomips : 3737.92
clflush size : 64


$ lspci
00:00.0 Host bridge: Intel Corporation 82975X Memory Controller Hub
00:01.0 PCI bridge: Intel Corporation 82975X PCI Express Root Port
00:1b.0 Audio device: Intel Corporation 82801G (ICH7 Family) High Definition Audio Controller (rev 01)
00:1c.0 PCI bridge: Intel Corporation 82801G (ICH7 Family) PCI Express Port 1 (rev 01)
00:1c.4 PCI bridge: Intel Corporation 82801GR/GH/GHM (ICH7 Family) PCI Express Port 5 (rev 01)
00:1c.5 PCI bridge: Intel Corporation 82801GR/GH/GHM (ICH7 Family) PCI Express Port 6 (rev 01)
00:1d.0 USB Controller: Intel Corporation 82801G (ICH7 Family) USB UHCI Controller #1 (rev 01)
00:1d.1 USB Controller: Intel Corporation 82801G (ICH7 Family) USB UHCI Controller #2 (rev 01)
00:1d.2 USB Controller: Intel Corporation 82801G (ICH7 Family) USB UHCI Controller #3 (rev 01)
00:1d.3 USB Controller: Intel Corporation 82801G (ICH7 Family) USB UHCI Controller #4 (rev 01)
00:1d.7 USB Controller: Intel Corporation 82801G (ICH7 Family) USB2 EHCI Controller (rev 01)
00:1e.0 PCI bridge: Intel Corporation 82801 PCI Bridge (rev e1)
00:1f.0 ISA bridge: Intel Corporation 82801GB/GR (ICH7 Family) LPC Interface Bridge (rev 01)
00:1f.1 IDE interface: Intel Corporation 82801G (ICH7 Family) IDE Controller (rev 01)
00:1f.2 RAID bus controller: Intel Corporation 82801GR/GH (ICH7 Family) SATA RAID Controller (rev 01)
01:00.0 VGA compatible controller: ATI Technologies Inc RV515GL [FireGL V3300] (Primary)
01:00.1 Display controller: ATI Technologies Inc RV515GL [FireGL V3300] (Secondary)
3f:00.0 Ethernet controller: Broadcom Corporation NetXtreme BCM5755 Gigabit Ethernet PCI Express (rev 02)

Here is the xml configuration file for the domU, which i got after running "virsh dumpxml domU"

$ cat domu.xml
<domain type='xen' id='1'>
<name>domU</name>
<uuid>bed29a3d94d8c9ee8f023e50de1a65ac</uuid>
<os>
<type>hvm</type>
<loader>/usr/lib/xen/boot/hvmloader</loader>
<boot dev='cdrom'/>
</os>
<memory>512000</memory>
<currentMemory>409600</currentMemory>
<vcpu>1</vcpu>
<pci>routeirq</pci>
<on_poweroff>destroy</on_poweroff>
<on_reboot>restart</on_reboot>
<on_crash>restart</on_crash>
<features>
<acpi/>
<apic/>
</features>
<devices>
<emulator>/usr/lib/xen/bin/qemu-dm</emulator>
<interface type='bridge'>
<source bridge='eth0'/>
<mac address='00:16:3e:00:d0:a1'/>
<script path='vif-bridge'/>
</interface>
<disk type='file' device='disk'>
<driver name='file'/>
<source file='/disk.imj'/>
<target dev='hda'/>
</disk>
<disk type='block' device='cdrom'>
<driver name='phy'/>
<source dev='/dev/dvd'/>
<target dev='hdc'/>
<readonly/>
</disk>
<graphics type='vnc' port='5900' keymap='en-us'/>
<console tty='/dev/pts/1'/>
</devices>
</domain>